The All Gambling Sites App is now available!
Time to provide all of our iOS Mobile users a neat, compact place to get the latest gambling news, casino bonuses and gambling tips!

London 21.10.2015: All Gambing Sites is really proud to announce that after months and months of hard work by our developers, the All Gambling Sites App has now been launched and is available for you to download in the iTunes/App Store!

For now, all of you lucky Apple iOS users will be able to download All Gambling Sites App directly onto your iPhone or iPads for easy access to the current and best casino offers, latest casino and gambling news – right at your fingertips!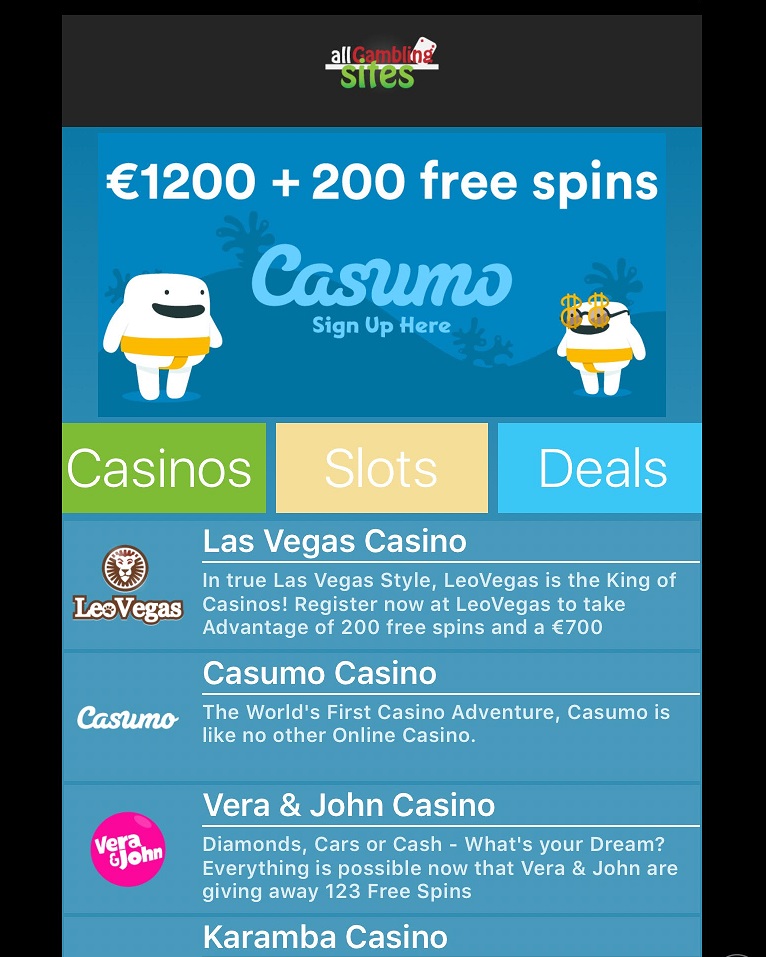 The All Gambling Sites App was designed and produced because sometimes everything's easier, more up to date in an App. The All Gambling Sites App features an easy use interface, where you can select recommended online casinos that you'd see on the main AllGamblingSites website.

Also, theres up to date and current casino bonuses most of which are exclusive offers that you won't find anywhere else, handy free spins offers which will help you play some free online casino for fun or to simply help you find a new casino and try them out for free before you get started for real. Also, the our App, you can keep up to date with our help of knowing the best online slots, newest online slots that have been released and where you can play them and also recommended slots and casino games that you might not have come across yet.

When something is new and exclusive, All Gambling Sites App will let you know direct with some notifications, so there's no chance of missing out on exclusive casino bonuses, free spins offers on new slots or some other exclusives we've managed to obtain for you.
AGS CEO says : We wanted to produce an App which enabled us to engage with our readers, to help them with the latest news and offers, without them having to refer back to the main website all the time. Thus, making the App do all the hard work. We're really happy with this launch, and we're looking forward to adding more and more as time goes by, making the All Gambling Sites App the best Gambling App available online!

Over time, we'll add more and more recommended, tried and tested gambling sites, constant news stories, covering every type of online gambling product possible, including Sports Betting, Online Poker, Bingo, Scratchcards, Trading - you name it, we'll have it!

What's important to keep in mind is that only trusted gambling sites will be recommneded, which are licensed, regulated, fair and only those who have the best reputation, owned by a large, secure iGaming companies.

Visit the App Store here and download the All Gambling Sites App for free, to keep up to date with the latest casino and gambling deals.
Top Casino Picks Right Now