Davis Cup Predictions
The Davis Cup is just around the corner. This means that it is up to our team here to put together a few sport betting predictions. Of course, even if you are not having a flutter on the tennis, the game is still going to be incredibly exciting.
That being said, if you do follow the sport betting tips we have on this website, then you may win a bit of money too. Can you really turn your nose up at that?
Remember; the Davis Cup has been playing throughout most of the year. Here, we are venturing into the Semi-Finals, arguably one of the most exciting times for the tournament.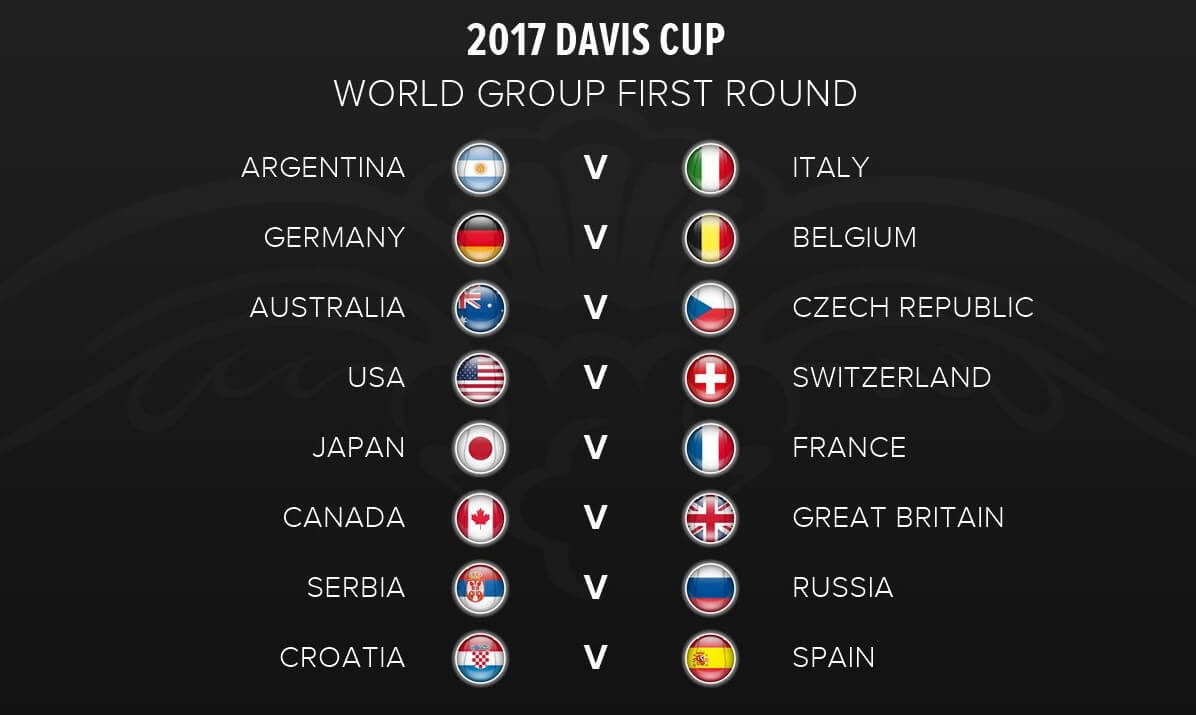 Belgium v Australia
This is going to be the first semi-final of the two. Australia knocked out the USA in the quarter finals and Belgium took out Italy
Now, Australia are lucky to some extent. They are planning to have almost 10 days of preparation in Brussels before the 'big match'. John Millman was knocked out of his singles run at the US Open a couple of days back.
This means that Australia will have a virtually full team for practice. The only exception will be their doubles squad, who is not doing too well anyway. This means that Australia are going to have plenty of time to prepare.
Australia did have a bit of a scare when Nick Kyrgios recently complained of a shoulder injury during their doubles match. This resulted him, and teammate Mike Bryan, being absolutely thrashed. However, the good news is that Kyrgios is likely to recover in time to play against Belgium.
The bad news? Nick was absolutely amazing at playing tennis last year. This year, he is playing abysmally. How much of an impact he will end up having on the Australian team is anybody's guess. He has done sort-of well during the Davis Cup this year, but we are hoping Australia does not rely on him too much.
The problem Australia are facing is that David Goff in is back for Belgium. This is going to make the Davis Cup encounter so much more difficult. However, and here is the big however, David Goff is recovering from an injury. Australia are lucky here. Goff is unlikely to get enough practice matches under his belt before he faces them in 10 days time. This means that he is still going to be a bit rusty. Yes. He is still Goff and he is going to play amazingly, but Australia may be able to take advantage of him to some extent.
Who would we stick our money on for this one? It is actually quite hard to decide. If we had to say one team, it would be Australia. They seem to have the drive about them and nobody is really bleating about how brilliant the Belgian team is at the moment. It is going to be close, but we think Australia are going into the finals at the end of the year.
France v Serbia
There is always a spot of difficulty when it comes to predicting who is going to win the Davis Cup. This is because the teams in the semi-finals always have a decent number of players available to them. This makes it nigh on impossible for us to predict who is going to win. The pool of players will always be based upon the challengers.
Now, we reckon that Djokovic is going to be a 'given' for Serbia. He has played one match in every tie and he has done incredibly well. However, we reckon that France have it in them to win this encounter. Not by much, mind you.
The reason why we reckon France have a bigger chance of winning the semi-final against Serbia is not because they have better players, the players are very much on par with one another, it is just that France has more depth to their squad. If Serbia lose one of their players, or one of their players is not playing to the standard that they always do, then they can't really be dropped. There is nobody decent there to replace them. This will cost Serbia matches.
Our best guess is France will beat Serbia 3-2, although it could be a complete demolishing if Serbia has a bit of an off-day.
Who will win the final of France v Australia? Well, that is a story for another day (but we reckon Australia for those who want to get their sport bets in early)
Making a Bet? Make sure You Bet at The Best UK Betting Sites