Race towards the Jackpots at Rizk Casino!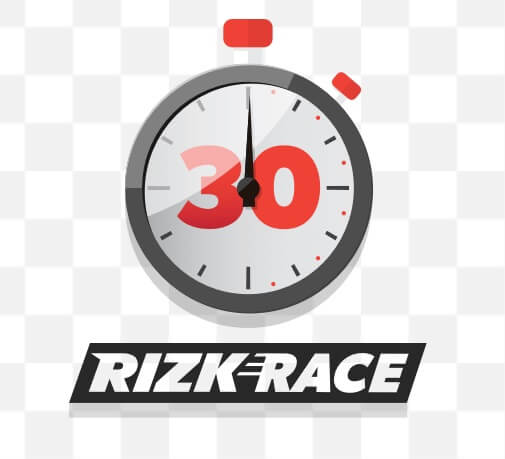 The very popular Rizk Race is getting it's own special promotion. Rizk are upping the ante right now and are getting a prize pool for the jackpots in place. The best part? ANY player has the chance to win it!
The popular Rizk Jackpot Races will start next week, from Monday the 14th of August, at one minute past midnight and will run up until Friday the 18th of August.
The jackpot races lasts for one hour, and starts at 21:00 CET every day until Friday!
How The Jackpot Races Work & How To Get Involved
The daily race jackpot will grow by £0.50 every time a player "levels up" in the casino from 00:01 CET in the morning until the Rizk Jackpot Race starts, 21.00 CET, that same day. Levelling up is all part of the rewards program at Rizk, read our Rizk Review to find out more!
Rizk are including "level ups" from ALL Rizk player, no matter if they join the Rizk Races or not!
All jackpots in these races are progressive and will grow depending on how many players level up in the casino on the day of the race, before it starts. There's no telling how big these jackpots will grow!
"Insider" will be available on Monday to show the winning positions for the whole week. Five randomly chosen positions, from between 20 and 100, will be shown and those are the ones to bring home an equal slice of the jackpot prize! This means that someone finishing on position 89, or maybe 29, might be a winner!
100% up to €100
50 Extra Spins
Regular Rizk Race prizes will also be given out.
All jackpots in these races are progressive and will grow depending on how many players level up in the casino on the day of the race before it starts.
The Rizk Race mechanic is very simple:
Players can find and join a race by visiting the Rizk Race page on the left sidebar on Rizk Casino website.
They will get a pre-defined time limit and a set amount of spins to complete.
At the end of the allocated time and spin limit, the player that has accrued the most points wins the race.
All prizes at the end of each race are wagering free.
Main races will be run on specific games, other races can be played in any game, except Table games, Live casino games, 3 reel slots, Castle Builder games, Video poker and any slot games with a "gamble" feature, where it is possible, post-game, to gamble your winnings from that spin.
How Rizk Race points are calculated:
Every win = 10 points
3 wins in a row = 30 points
3 losses in a row = 40 points
Big wins (minimum 10x the original bet) = 300 points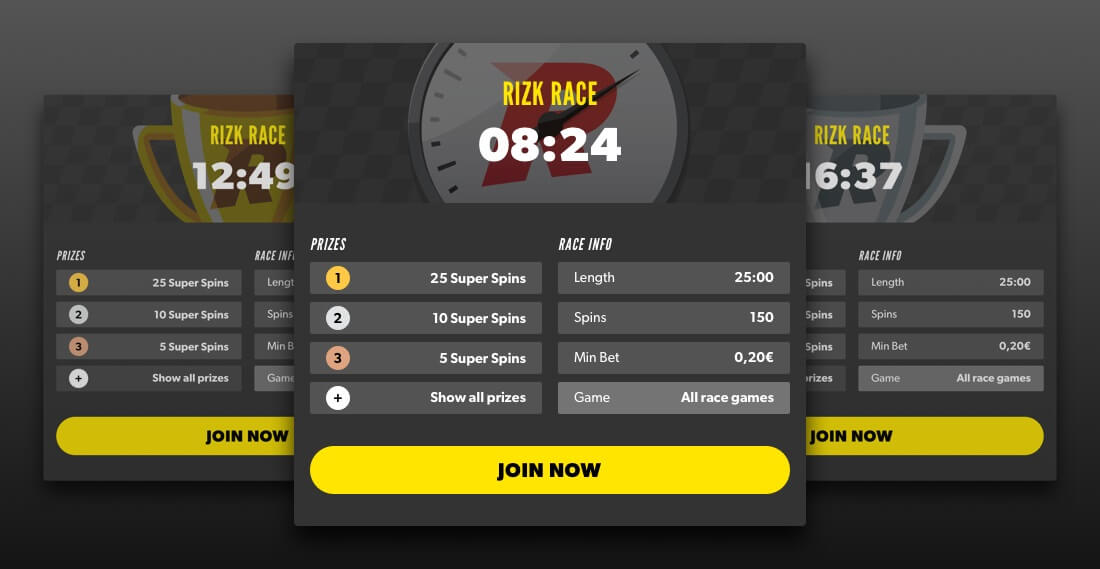 All players have equal chance of winning prizes no matter the bet amount
The Rizk Race regular details:
Race All Day events take place every 30 minutes.
Main Races take place at 19.00 CET/CEST and 21.00 CET/CEST, every day.
Players can win free money, free spins and Super spins in the Race All Day events, and up to £500- £1000 in the main Races depending on race time.
100% up to €100
50 Extra Spins
>>

news

>>

casinos