Top Live Dealer Casino Codeta continues the Live Games Revolution Following Major 2018 Redesign
In a world of new slot sites, it's actually Codeta Casino who are standing out from the crowd with their revolution towards classic casino and live dealer games.
What is Codeta?
It's fair to say that Codeta is the live table games pioneer. This week, Codeta launched the second stage of its online casino revolution as it looks to give even more power to players following the complete redesign of their website. The name Codeta is a take on the French phrase coup d'état; with the casino site kick-starting a revolution against the current status quo of the online casino industry.
This Means That...
If you love your classic casino games and perhaps more recently you've entered the world of live dealer casino games, then Codeta is undoubtedly the place to head.
The upgrade also includes the launch of several new features, such as tournaments and a powerful search tool that allows players to find games based on sub categories such as game supplier, table type, slots, live games and more.
What's New & What's Changed?
Codeta launched back in 2015 with the aim of becoming the go-to destination for live casino players. It's refreshing to see that this operator does not believe in gimmicks and instead focuses on providing the widest range of quality live dealer games.
Codeta has also been given a completely new look and has never looked as good or slick as it does today. The new design includes different colours (green, red and white) and a change of font, however Codetas ethos and mantra still remain the same; to champion live table games and shake up the status quo of all of the 'samey' looking new casino sites we're seeing pumped out month after month.
The new changes simply make it easier for players to find their favourite games and also navigate to access the features and tools made available to them. It also allows Codeta to project its voice even louder.
Codeta chief operations officer Daniel Nilsson, said:
"Codeta is all about delivering the best live casino experience, and to do that we believe in giving even more power back to our players, which we have achieved through our redesign. Codeta is all about the games; we do away with online casino clichés and instead swim against the tide and do things a little bit differently. The redesign allows us to better serve our players, while still standing out from the crowd."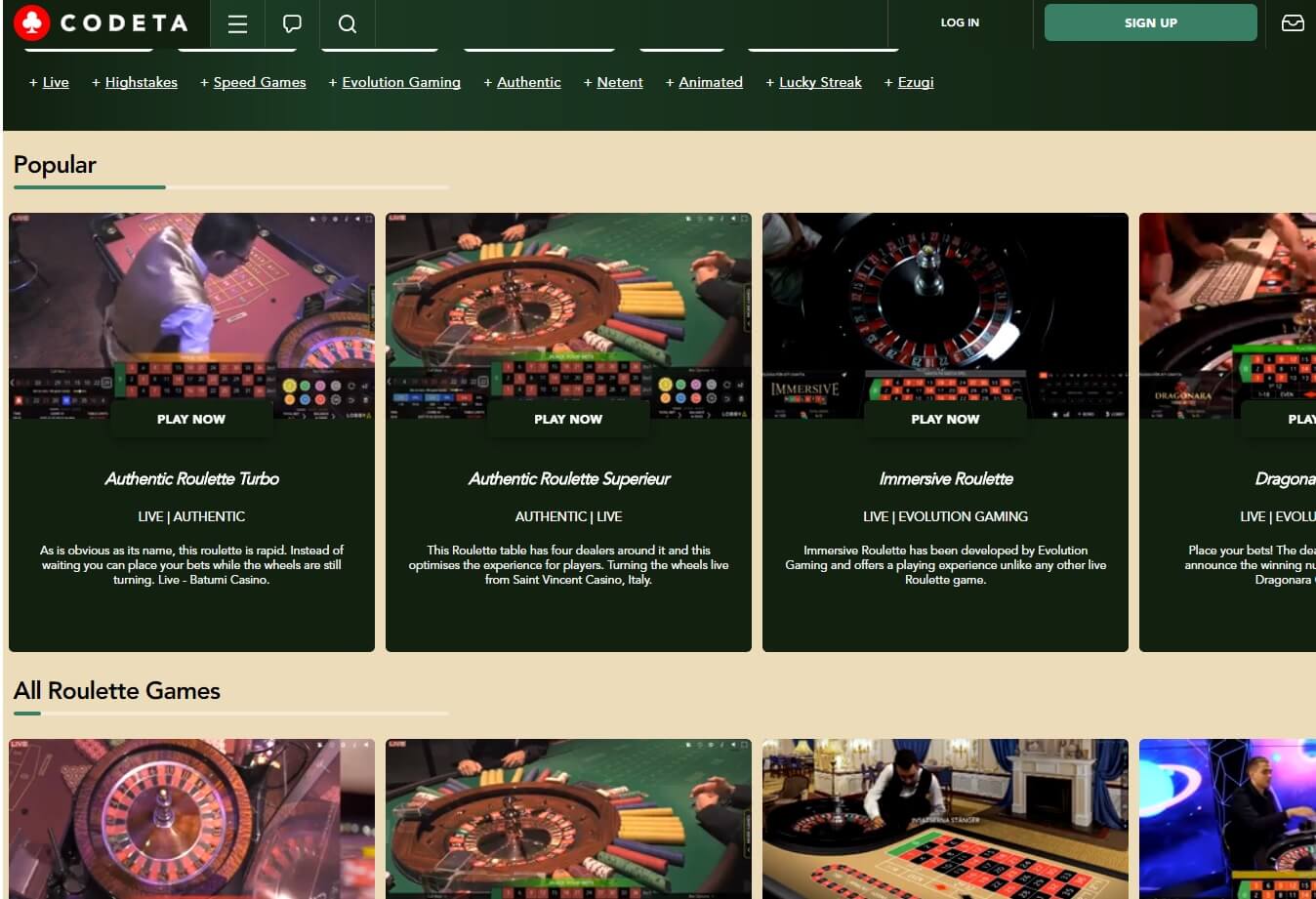 Why Codeta is Best For Live Games
With such a great selection of casino games, Codeta has carved out a name for itself as a pioneer and leader of classic and live table games. Codeta is showing the casino world what online casinos should be like.
Online Slot fans howeverm should not be put off because there are also hundreds of premium slots available to play either on desktop or mobile. Games are provided by a host of top quality casino games suppliers including NetEnt, Play'N'Go, Aristocrat, Novomatic, NextGen, Microgaming and many others.
Codeta's live dealer products are supplied by the likes of Evolution Gaming, NetEnt and Authentic Gaming. This means you will have access to the best live streamed games as well as one of the biggest games selections online. Available are all types of blackjack, roulette, baccarat, craps, Caribbean stud poker and many more, with stakes ranging from casual to high.
Get Started at Codeta Casino
To find out more about Codeta, our Codeta review has all the details, but you can pop along to the casino directly below. Codeta also offers arguablly one of the best new player welcome offers which will give you up to £3000 cash back in your first week playing.