Big Winner Strikes at Guts Casino!
Classic Story of a lady who won the jackpot and didn't realise until the next morning!
At 3:47am on the 23rd of April 2015, most people in Sweden and Europe were sleeping, yet one lucky player decided that was a boring option, and that playing some online casino was far more fun and adventurous!

New reaches us today that Gut.com Casino are rather proud to report that they had their first ever Progressive Slot winner, a lady from Sweden who decided 3am was a perfect time to play Arabian Nights Jackpot Slot and win a massive jackpot of €2,633,036!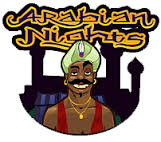 According to the Guts Casino Team, they called Monica personally to congratulate her on her enormous win, but Monica's initial reaction was not what Guts was expecting. It seems that Monica had indeed saw the five wild symbols lined up which is what you need when you win the Arabian Nights Jackpot and assume she had won something, but she did not realize the enormity of her win, so she continued to play some more spins and then went to bed. Can you believe that little did she know that she had just become a millionaire? Monica, on hearing the news uttered the immortal words of: "I can't believe it, you are kidding me, right? to the Guts Casino team, and then finally when the news started to sink in she added: "I think I may faint!" After a little more convincing that she actually won the jackpot, Monica shouted out "this is so crazy!" and the celebrations begun. Imagine that you casually walk off to sleep unbeknown that you are no sitting on a €2.6 Million jackpot waiting for you!

Robin Reed, Managing Director of Guts.com commented:
This is truly a remarkable day. We love to celebrate winners at Guts and this is the largest win we have ever had the pleasure of celebrating. We are so happy for Monica, who has been playing at Guts since the start and we look forward to making more millionaires in the future. Well done, Monica!
As with any winner story, of course, we're all wondering what Monica will do with her new found fortune. Gut's asked what Monica would be doing with the winning and she replied "I will pay off my mortgage, help out my children and my grandchildren, donate some money to charity and then enjoy a little travelling with my family." We wish Monica only the best and fun with her jackpot win!

Arabian Nights is one of 29 progressive jackpots on offer at Guts.com, if you're now in the mood for trying some progressive slots, the kind that offer life changing amount's then head on over to Guts and take your pick

Note: We'd leave Arabian Nights Jackpot Slot for a while until the jackpot grows again, but with 29 other jackpots to choose from you're really spoiled for choice!

Best Casinos to Play Progressive Slots