Karamba Brings the Party... and a New Look!
Karamba paves the way to being the best online slots site
We've been a little bit quiet on the Karamba Casino front of late, but a little birdy did tell us that they would be looking a whole lot different soon, and it seems that day has come today. Ladies and Gentlemen, you need to check this out: Karamba has a total new image and branding and we're very impressed so far!

Let's get some scoop on Karamba and who they are. Karamba was launched back in 2009 and has gone through some radical changes since then. Not wanting to be known more for Scratchcards than slots, Karamba set about aligning themselves to be among the top leading online casinos and slot site. Since then we've seen Karamba integrate all the Netent Catalogue and more Amaya Games, also keeping their much loved and own brand of NeoGames games, but it wasn't until 2015 that Karamba's parent company Aspire Global decided that this year would be the year when they pushed the boundaries even further for Karamba and left the comfort zone even more with a rebrand.

Today, Karamba unveiled a sleek new look and design. We managed to get a quick interview with Karamba Spokesperson who said:
"Living by our Pillars of Fairness, Fun and Celebration, we've incorporated a fresh, clean design with light and spacious features, accompanied with a Fun Slogan which is "Let's Go Karamba" and also a Celebratory, Playful and Cheeky Mascot Bird. Bringing all these points together is what makes Karamba, and is the message we're sending out"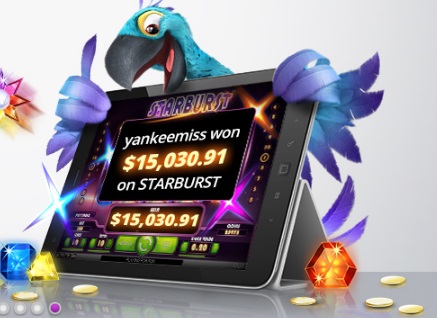 We checked out Karamba and we were already sold on the Karamba Bird, who we're told hasn't been named yet, but will be. It's clear that Karamba and Aspire Global have put so much effort into the whole process and they haven't finished the journey yet, as we're told – they have much more to follow – this is just the start.

Karamba offer one of the best welcome bonuses online right now. New customers can get a 100 Freespins and 100% up to €200 welcome package to get the party started. Since Karamba put the emphasis on Fun, so the party doesn't stop there either. Karamba are known for the abundance of special offers and promotions you'll can personally receive throughout the week and month, and they're always celebrating special events with extra things going on such as Easter, Christmas and so on. Any excuse for a party really, which means unbeatable value for you.

You can read our full Karamba Review here or hop on over to Karamba below to get acquainted with the new look and also, meet the cute and cheeky Karamba bird of course!

Other Top Online Casinos