LeoVegas Blackjack
While LeoVegas Casino offers a wealth of different gambling options, the part of the site we at All Gambling Sites want to talk to you today about is LeoVegas Blackjack.
Granted, it is not the biggest part of their website, that probably goes to slots, but they have more blackjack options than you can shake a stick at. In fact, because LeoVegas has so many different games away from blackjack, this is actually the main website we play blackjack on, simply because we can hop to other games easily when we get a little bit bored.
Table Blackjack
If you are not much of a gambler and are only spending a couple of pennies per day, or maybe less than a couple of quid, then there are plenty of table blackjack options available for you. In fact, you can spend a couple of pennies a hand and you can still have some fun. This is what we do quite regularly, mainly when our bank roll is getting a little bit on the low side. Of course, there are also a couple of VIP options, but I am going to talk about those in a later section.
All of the blackjack games offered by LeoVegas seem to be NetEnt versions, so you can expect the smoothest possible experience. There are also a couple of games offered by Felt. These are some of the more unique variants of Blackjack that you can play. They can all be played on mobile devices too but, once again, that is something that we are going to talk about in a later section.
Here are the blackjack variants available:
Standard blackjack
Perfect Pairs 21+3
Double Exposure Blackjack
American Blackjack
Blackjack Pro
Blackjack Redeal
Blackjack Flash
Single Deck Blackjack Pro
Lucky Lucky Blackjack
Lucky Ladies
Those are just the top variants of blackjack offered by LeoVegas. There are plenty more other variants that you can sink your teeth into. Basically, even though LeoVegas does not actively push its blackjack offerings, there are more than enough options for those who fancy playing several hands.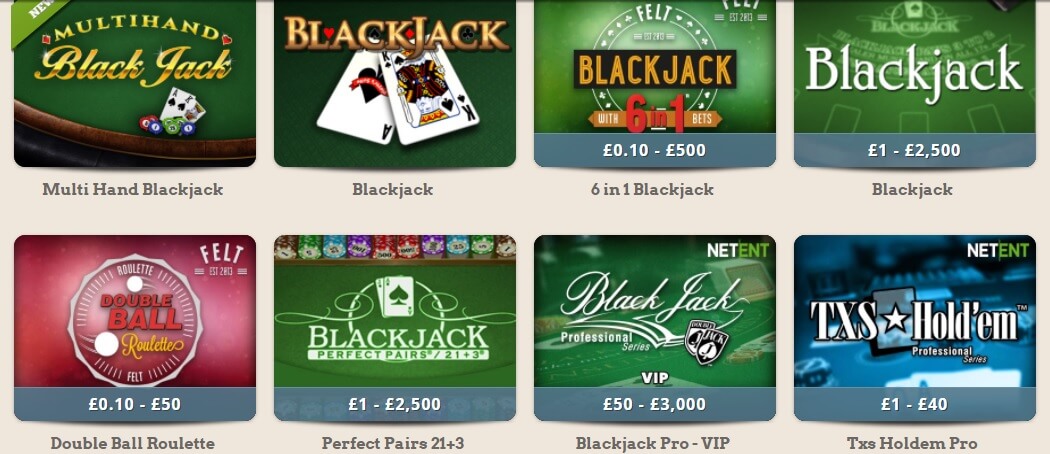 Live Dealer Blackjack
This is where the fun is. There are also plenty of different variant rooms for live dealer blackjack. Based on my experience, the dealers are always friendly too. Of course, there is going to be a higher minimum bet per hand. This is going to be around a couple of quid dependent on which room you are playing in.
However, LeoVegas live blackjack is so amazing that you won't really mind. In fact, this is probably one of the smoothest sites that I have ever had the pleasure of playing on.
VIP Gambling
As I mentioned previously; there are several different VIP rooms available. If you are going to be spending a couple of pennies each hand, then these rooms are not for you. These rooms are for those spending £20+ per hand. You need to earn the right to be gambling in them. I absolutely love this, mainly because it means that I can earn some serious amounts of cash when my bankroll is feeling a bit flush.
Mobile Gambling
If you are an avid mobile gambler, then you will be pleased to know that all of the LeoVegas blackjack games can be played on a mobile device without any issues. This includes the live dealer casino. There will be no need for you to download any additional software to your phone or tablet. This is quite nice! The site is easy to browse on a mobile device too.
Why else should you gamble at LeoVegas?
LeoVegas blackjack is not the only thing that the site brings to the table. Here are a few of the other reasons as to why you should be gambling there:
Huge array of games to get stuck into. This includes hundreds of slot machines.
Fantastic customer service
Easy to withdraw and deposit cash into your account.
Brilliant bonuses, particularly if you stick around on the website and play.
Check out LeoVegas Blackjack 2018
Rather than reading about it, why don't you hop on over to the LeoVegas.com website today and sink your teeth into a couple of games of Blackjack? There are several different game options available, which is nifty! Don't forget to take advantage of those bonuses if you want a few extra plays!