The Mega Moolah Jackpot Hits £10 Million!
Where will you play Mega Moolah Jackpot, to have a try to take the record breaking, Multi-Million Jackpot; Now standing at just over €10 Million?
Since news reached us today that the Mega Moolah Progressive Jackpot has now reached an all time, record breaking jackpot of €10 Million, we thought tht we'd share this fact with you, and we also decided to play at online casino that we havent played at in a while as well.
There are many Microgaming casinos which offer Mega Moolah Progressive slot and also its sister slot, newer and slightly different themed Mega Moolah Isis slot. But choosing which one to play at can be difficult sometimes.
Where are you going to play Mega Moolah?
We want to play at a casino that's really good, and we think LeoVegas has nailed it. Not only do they offer Microgaming casino games and plenty other software!
Software at Leovegas includes Netent, WMS, IGT, Thunderkick and NextGen, giving LeoVegas a few hundred different casino games and slots to choose from, but they're also leading in the mobile casino stakes.
As we prefer to play casino games and slots on our iPad, as it's just way more comfy then they're leading there as well!
What's Mega Moolah Jackpot all about?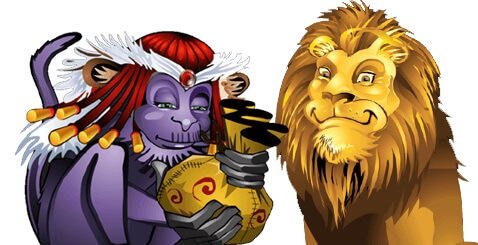 More about Mega Moolah and its whopping £10 Million Jackpot! Mega Moolah is a progressive jackpot by Microgaming.
It was one of the 'original' online was first launched By Microgaming in 2008. Mega Moolah Slot is designed with a cartoon styled, safari theme, and is set on the lazy, hazy plains somewhere in Safari Africa. You'll meet some friendly animals on the reels, one's which will help you win more.
Mega Moolah offers the chance to win not one, but 4 progressive jackpots which are called Mega, Major, Minor and Mini.
The Mega Jackpot is the big whammy, the one that you'll want to reach, which is the one that's peaking at £10 Million right now, but the other local jackpots still offer some sizable wins for being 'local' jackpots. Local jackpots are not pooled network wide like main progressive jackpots, they're contributed to by the bets of the casino you are playing in, and are therefore smaller, as less people are contributing to them.
To get a shot at winning the Mega Moolah Jackpot, then you'll need to see the bonus feature pop up in front of the reels. It's totally randomly, and if it does, then a spinning wheel will appear, like a Wheel of Fortune wheel. It's your job to time it correctly so when you press to stop, the ticker will slowly stop so that it points to the Mega Moolah Jackpot fration of the wheel.
Where's Best To Play Mega Moolah Jackpot Slot?