Thrills Casino Easter Promos:
Last Week of That Wacky Road Trip!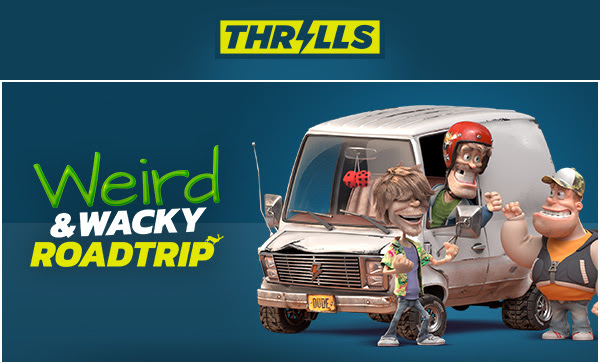 Happy Bank Holiday Weekend and a Hippie Hoppy Easter to you all! This weekend, we're heading over and playing our slots and casino games at Thrills as they have a special promotion going on every single day next week!
Keep on reading below as to what's happening and which promotions you can take advantage of.
All you need to do is log into your Thrills Casino account and get started. If you're new to Thrills and fancy giving a new casino site a try, then we really couldn't recommend Thrills Casino enough.
All new players can grab 20 free super spins and a casino bonus package worth up to £1500 when they get started too. Read more in our Thrills Review or get started below.
A Full Week of Free Spins, Bonuses and Prizes...
Join Thrills' last days of the Wacky Road Trip and follow them to the most extraordinary destinations around the globe. The road trip lasts until 23.04.2017 so you have a full 7 days of offers and fun! Starting Monday…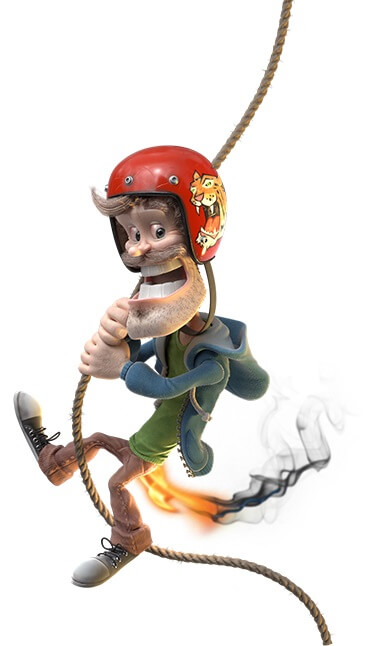 Monday, April 17th - Weird and Wacky Road Trip: Winnings Booster
Thrills are starting this week off with a thrilling ride where you will feel like a child again. And of course Thrills has an offer in store for you:
Get your winnings boosted by 10% up to £10 on Golden Ticket! At the end of the day, if you're a winner, Thrills will add another 10% on your winnings. Win today until midnight and get an extra win tomorrow at 18:00 CET.
Tuesday, April 18th - Weird and Wacky Road Trip: Dep & Get Wild Chase
Time to head back on the road. Thrills are pumping up the volume and enjoying a good trip with some singing in the car. And while you are waiting for next destination - enjoy today's offer:
Deposit £30 today, fire up the Freebies Vault tomorrow at 15:00 CET and get 10 Free Spins on Wild Chase Slot! Deposits made until 23:59 CET will be valid for this offer.
Wednesday, April 19th - Weird and Wacky Road Trip: Death Wager Race
You've arrived at your new destination, and this place can be as scary as the name of today's campaign that is waiting for you:
Play Book of Dead Slot, Day of the Dead Slot, Grim Muerto Slot, Alaxe in Zombieland Slot or Dead or Alive Slot today and win the scary high first prize of £400. 10 lucky players who has wagered the most until midnight will win a share of the £1000 prize pool!
Thursday, April 20th - Weird and Wacky Road Trip: Spin & Win Jungle Spirit
While exploring this scary and at the same time beautiful destination, you can embrace the opportunity of getting Free Spins today!
Play 250 rounds on any slot with a minimum bet of £0.40 and you will get 10 Free Spins on Jungle Spirit: Call of The Wild Slot. Simply spin the mentioned rounds with the min. value per spin and you will have spins granted instantly. Spin before midnight in order to get some spins!
Friday, April 21st - Weird and Wacky Road Trip: Reload
Times flies when you're having a good time. It has now been time to put the motor on again and head over to our last but not least destination! While you're on your way there, you'll get £10 extra in your account if you deposit £20 today. The bonus is valid until midnight.
Saturday, April 22nd - Weird and Wacky Road Trip: Riddle
It's the final countdown, 1 more day to go! On today's menu for you, there's a riddle for you...
Solve the riddle and open the game at 15:00 CET. If you are among the 500 first to open the game you will find 10 Free Spins waiting for you. Log in to Thrills to find out what the riddle is.
Sunday, April 23rd - Weird and Wacky Road Trip: Deposit Raffle, Fairytale Legends: Hansel and Gretel
Final day... We're sure you have truly enjoyed every single day of this spring calendar, so today we're asking the question:
Do you feel lucky today?
You can get lucky in today's deposit raffle. Deposit minimum £50 today and you could be the lucky one enjoying 20 Super Spins on Fairytale Legends: Hansel and Gretel Slot. All deposits with the min. deposit made until 23:59 CET will make it in to the raffle that takes place tomorrow at 15:00 CET.
More Recommended Casino Sites You May Like
Related Articles