Karamba Sports Review
Karamba may not necessarily be the first name that springs to mind when you think of online sport betting sites, but don't let that put you off. This site is brilliant for those who love having a flutter here and there. Shall we take a look?
First Impressions
The first impressions of Karamba are good. We don't know how many sport betting sites you have ever played out, but if you have played at a few, then you will probably notice that the layout of the site is focused on adverts and the like. Sure, this is what makes the company money, but it is not necessarily what the customer wants to see. Thankfully, Karamba have not gone down that route.
With the Karmba sport betting site, the second you load it up, you can dive right into your betting. You will have a list of the events that are currently in play, coupled with some sport events that are coming up that you may want to jump into.
We are not going to lie here; the look of the site is not pretty, but it is functional and it really places the focus on actually betting. This is what we love to see.
Karamba Sports - Quick Facts
New online sports betting sites in the UK
Modern design, easy to use website & mobile site
Good welcome bonus
KarambaBOT feature which uses IA to predict outcomes - must try!
Trusted brand; Karamba has been around since 2005
Karamba Sports Betting Bonus
The welcome offer at Karamba is pretty nifty and very straight forward. It's a perfect betting bonus to help get you started and have a good enhanced bet for the first time. Simply deposit £10 and you'll get a £10 bonus bet.
Terms: One Free bet token will be awarded once you have made your first deposit and have bet £10 on sports with odds of over 2.00 (1/1).
The Free bet token can only be used on a coupon with total odds of 1.80 (4/5) or higher.
The maximum value of the free bet is £10. A maximum of one free bet will be awarded in this promotion.

18+. T&C Apply
---
Bet £10 Get £10
Unlock the KaramBOT!
Sport Betting Options
If you can think of a popular sport (or even a semi-popular sport), then you will be able to find it at Karamba. Obviously, one of the biggest focuses of this website will be on the football. It is the most popular sport in the world, after all. However, they also give a bit of time to the less popular sports, and you can sink your teeth into them too. There may even be a few eSports popping up on occasion.
One of the things that we love about Karamba is that they do not just focus on the big games. Again, this is where they could probably make the most money, but they do want to be very unique. They actually highlight some lower league games on occasion from around the world. This means that you should always have something new to bet on.
This lower league philosophy actually applies to some of the live betting too. You will be amazed at the plethora of live betting options that you can enjoy through Karamba. We certainly were. Whenever we have wanted to place a bet, no matter the time of day, we have found a live option to bet on.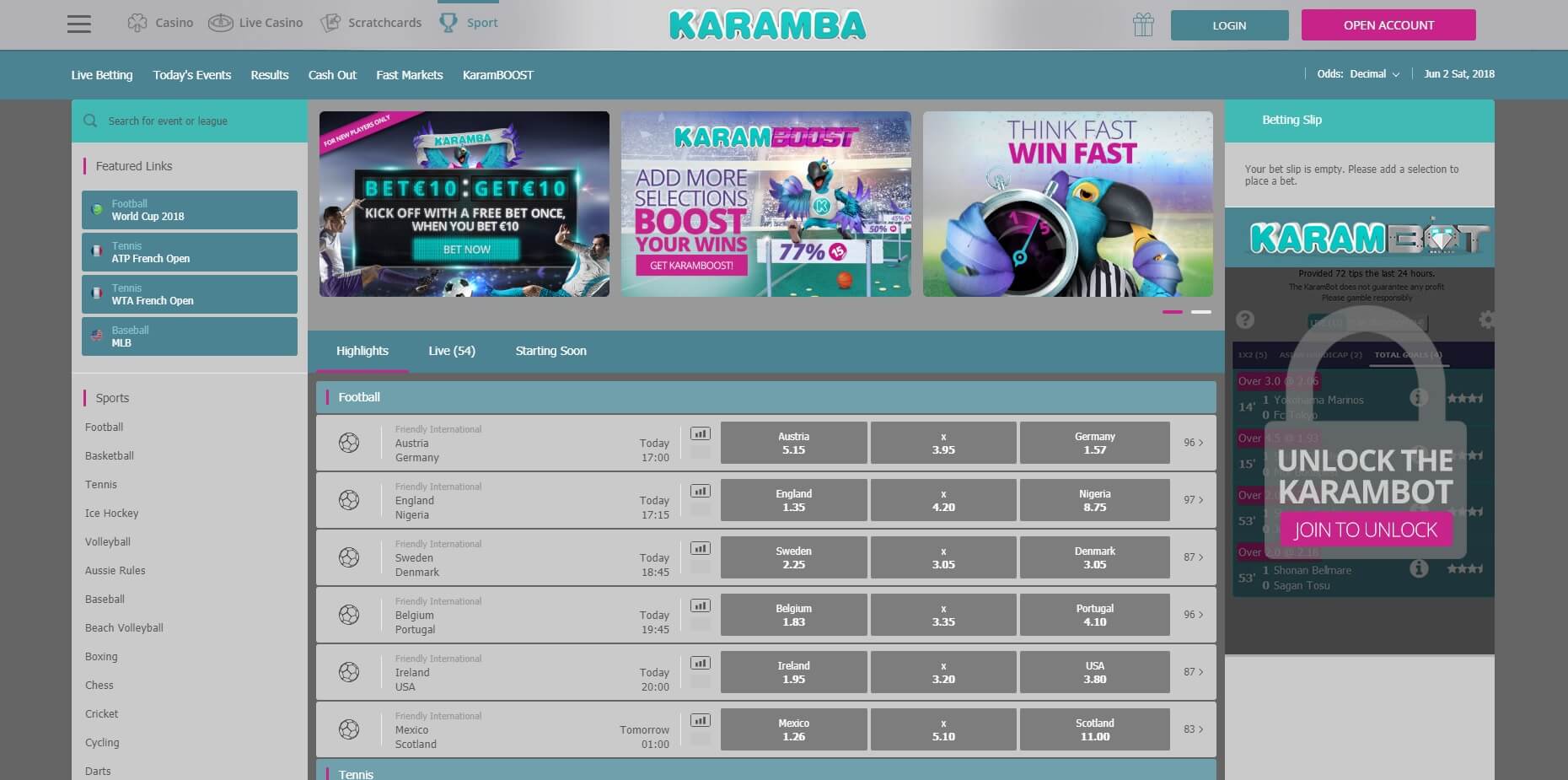 The KaramBOT!
When we were trying out Karamba for the first time, we were quite intrigued by "The KaramBot". The KaramBot is an automated bet recommendation engine which is designed to help players place smarter bets both before kick off, and live during the action.
According to Karamba, they are the only sportsbook online to actually have such a feature in place. How it works is pretty simple. The KaramBot constantly scans through ALL football betting market available for betting on Karamba.com to provide players with bet suggestions, enabling you to bet more accurately every time, but also enables the customer to engage in matches where you normally would not get involved as you have no qualified opinion.
It's perfect for beginners who are looking to get into football betting but not sure which way to go. The Karambaot is plugged into the Sportsbook Interface as a Widget, making it extremely easy to use. All KaramBot tips are based on scenarios that have been sourced from backtesting of actual events and statistics. Scenarios are pre-defined by professional gamblers and sportsbettors but the KaramBot also tries out his own scenarios to see if he can distinguish any profitable patterns in historical data.
Betting Odds
You would think that because Karamba is a smaller sport betting site it would not have the best odds, but you would be wrong. In fact, Karamba goes to great lengths to ensure that it has some of the best odds on the market.
Honestly, compare the odds of Karamba to some of the biggest sport betting sites in the world and 9/10, Karamba is either going to have better odds, or at least be on par with them. This is because the small size of Karamba works to its advantage. With lower running costs for their company, they can pass these savings onto their players. This means better odds.
Obviously, Karamba is not going to have the best odds all of the time but, honestly, they get them right so much that it does not even matter. You would be perfectly happy if this was the only site that you ever played at.
Mobile Options
Most people like to gamble 'on the go' nowadays, so it is worth pointing out the mobile options that the site has. While there is an app, you will not need to download it (unless you want to make your live betting experience a bit smoother). This is because Karamba functions perfectly well in your mobile browser. In fact, this is probably one of the better mobile casinos that we have seen in a while, so kudos to Karamba for that.
Other Notes
You have brilliant customer support, fantastic withdrawal and deposit options, plus a plethora of games to play here. All are on smooth servers and coupled with some amazing bonuses. Honestly; this is a sport betting site that you are really going to want to check out.
Summary: Play at Karamba Today!
Of course, don't just take our word for it. Why not check out Karamba today? There are some epic bonuses available for those who want to dive into their sport betting options. Why not take advantage of them today?
18+. T&C Apply
---
Bet £10 Get £10
Unlock the KaramBOT!