RedSpins Casino Review
While Red Spins Casino may look as generic as Channel 5 programming, this is a surprisingly brilliant site. There are a wealth of games available, and the site is ridiculously simple to use. In fact, this is a site that we had a tremendous amount of fun reviewing.
RedSpins Casino Site Design
We think that the biggest downside of RedSpins is the fact that it just doesn't look that great. Although, to be honest, we can't decide whether this is a good thing or not. We must admit that we are tired of sites which are chock full of fancy graphics. But, we are also not fans of sites which look relatively bland.
We suppose the biggest positive of RedSpins Casino's design is the fact that it is a doddle to navigate around. You have all of the 'best' games listed on the front page (these are not just limited to slot machines), and you have a handy little menu at the top which will allow you to jump to whatever section you want to on the site with just a speedy click.
One thing we particularly loved is that you can really drill down the type of game that you want to play once you navigate to one of the specific sections on the website. For example; if you are looking to play slots, you will be able to find games based on a specific RTP (don't think we have seen another site which does this, which is kind of awesome)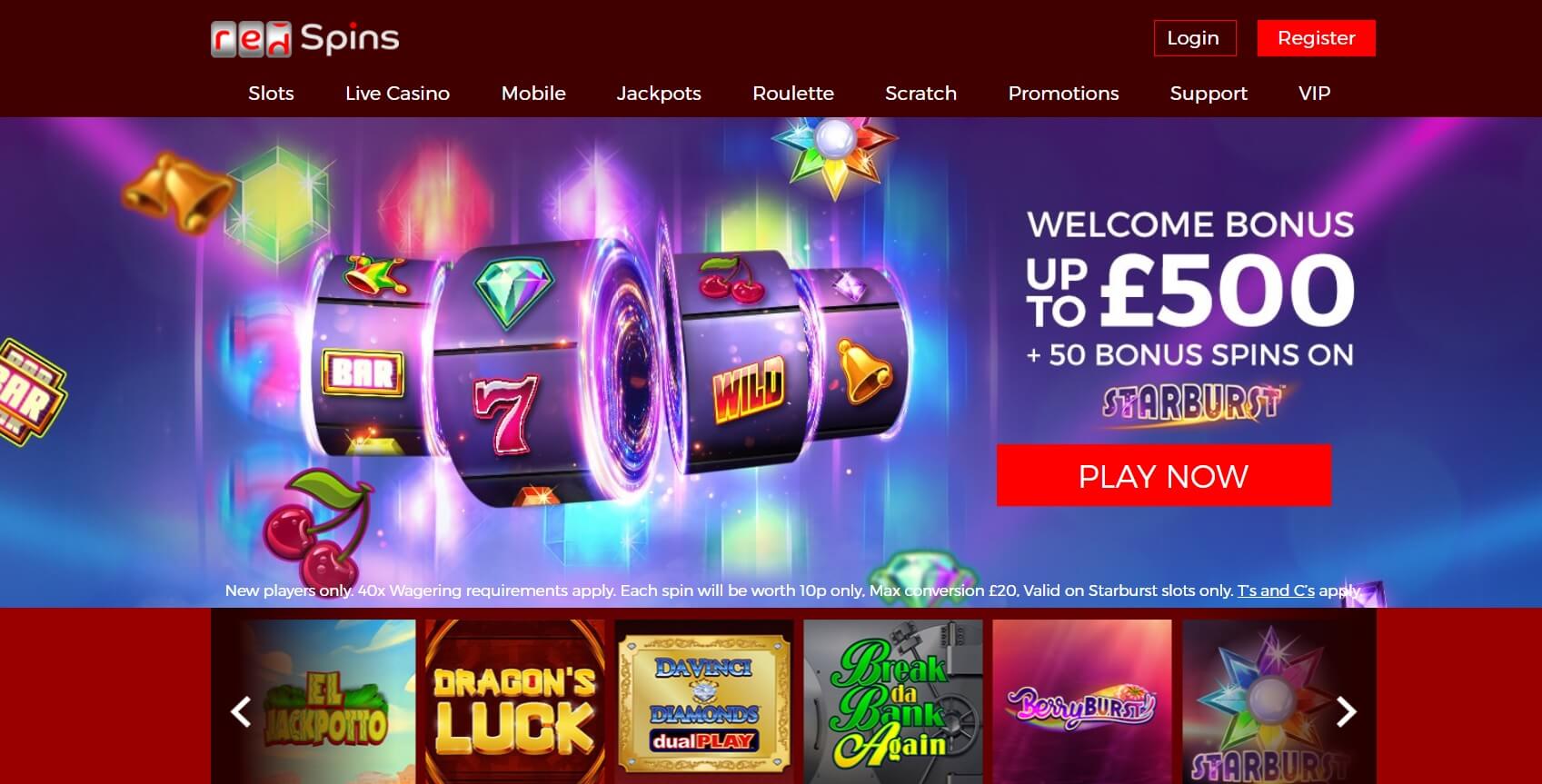 Red Spins Mobile Casino
There is a mobile version of RedSpins Casino, although don't worry as there is not going to be any need to download any additional software onto your mobile device. The whole site functions flawlessly in your mobile web browser.
You will run into the issue with the fact that RedSpins Casino has some games that do not work on mobile devices, although we are not really sure that this is something that you are going to be able to blame on RedSpins Casino.
This is because the issue is down to the developer not programming their games in HTML5 or whatever. Since RedSpins has tried to put a focus on some smaller developers which other companies do not do, we can't imagine that this is a problem which is going to be rectified any time soon.
Red Spins New Customer Bonus & VIP Program
Red Spins Casino bonus for new customers is a nifty match deposit bonus plus some bonus spins thrown in for good moeasure on a selection of popular slots. Below is the most current UK Red Spins Casino bonus available right now. Click on the link below to find out more.
It's also worth noting that Red Spins Casino offers a really good VIP rewards program which is designed to reward all types of casino player in tiers. Whilst it's entirely up to you whether you want to take a casino bonus or not, at least there's some good options in the bonus department if you wanted to! Find out more below.
Software & Game Selection
The name of RedSpins Casino is a little bit deceptive. We know that there are a few people that have trudged along to this website thinking that they have nothing more slots. Sure, the bulk of what the sites offers are going to be slot machines. It is big business for online casinos, but there are some other things to tap into too.
Before we talk about the other games, we do want to point out that RedSpins does feature all the top casino game vendors. This means that some of the more familiar names are going to pop up for you. However, this is a company that has also focused on some smaller game producers too. This means that there are some fun games thrown into the mix that you may not have heard of. It is great for a bit of an explore. On top of all these slots (there are around 300 of them, with more being added all the time), you will also be able to enjoy the following:
Oddly enough, RedSpins Casino is pretty much lacking in a lot of table games. We are sure that this is something which they are going to be adding in the future, but for now, just head here if you are very much going to go for the slots. The rest of it should be a bit of a bonus for you.
Customer Support Options
The hallmark of a good online casino is the customer support options that they offer. You will often find that new online casinos need to work incredibly hard on their customer support options as it drives people to visit them. Thankfully for you, RedSpins Casino has pulled out all the stops to ensure that they answer any questions that you may have about their services quickly and easily. There is even a live chat option if you want to sink your teeth into that.
Banking Options: Depositing & Withdrawing
It couldn't be easier to get started at Red Spins as there are plenty of deposit options to choose from, including Paypal, Pay By Phone, Visa, MasterCard, Skrill, Neteller, Trustly, Bank Wire Transfer & more. Withdrawals are processed pretty past, usually within a 24 hour window.
Summary: Check out RedSpins Casino Today
Why not check out RedSpins Casino today? It is an awesome website, particularly if you are a huge fan of online slot machines from big and small game producers. Find out more below.