Cool Buck Slot Review
The Cool Buck slot has a bit of a classic vibe. Don't let that turn you off the machine, though. Oh no. This game is incredible. Sure, it is not brimming with features, but there is certainly going to be enough here to spark the interest of any avid slot player, including new ones.
How to Play Cool Buck Slot
Cool Buck Slot was first released in April 2017 by Microgaming. It is a video slot which offers 5 reeks and 9 paylines. It has a house edge of 4%-5% and it is low volatility. The minimum bet is 9p. The maximum £45.
This game was first released in 2017. You would not know by looking at it, however. In fact, you look at this game and you would think that it has been designed in the 1990s. We do not have a problem with this, but others do. There are several versions of the Cool Buck online slot out there. The original was a 3-reel version. Microgaming updated it into the 5-reel version and threw some extra features on top.
However, somewhere along the way they decided not to give the graphics even the slightest of overhauls. It almost comes across as lazy to us. The machine does not look that brilliant. But, oh well. If you want a slot that is packed full of animations and the like, look elsewhere. If you want a game that is fun, this may be right up your alley!
The gameplay in the Cool Buck slot is very much in line with the theme. It is simple. We enjoy it, though. We feel that this is going to be a good 'gateway' machine for new players.
Bonus Rounds & In Game Features
Cool Buck Wilds: The feature that you will encounter the most when you are playing the Cool Buck slot is the wild. Now, as with other slots, the wild acts as a replacement for every other symbol in the game. However, it comes super stacked on the 3rd and 4th reels. This, basically, means that the stacks are higher. It can still appear as stacked on the other reels, but only 2-3 high, which is good, but not great.
Cool Buck Free Spins Mode: We love the way that Microgaming have tackled the free spins mode. When you play the game, you will have five free spins. There is a small counter in the right hand corner of the game that will tell you this. When you get a little pink diamond, the number of free spins that you get will go up by one. The maximum you can have 'banked' is thirty.
You can trigger your free spins in one of two ways:
If you get 3 scatters on the reels at once. They do not have to be on the same payline.
If you are lucky enough to build that counter all the way up to thirty.
This means that, eventually, you are going to trigger the free spins mode. It may take a bit longer if you are only building it up by using the pink diamonds, but it will come up. During the free spins mode, every reel can have super stacked wilds. All of your wins will be subject to a 2x multiplier too!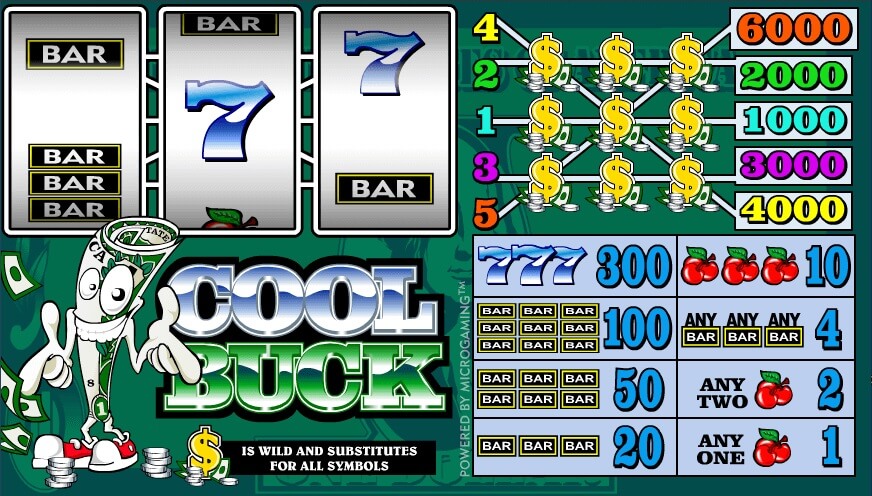 Cool Buck Mobile Slot Machine
The Cool Buck slot is a simple game. Very simple. Perhaps this is why it translates so well to mobile devices. We are not going to say that the Cool Buck slot is one of the best mobile slots we have ever played. It is not. Not by a long shot. It is still good, though. It is a ton of fun to play. We are sure you will enjoy it.
Summary – What Do We Think?
We love, love this game! It may not have a lot of features, but we do love our free spins. Cool Buck offers this feature in such a unique way that we really can't help but love the game. This is something that we will have no issues recommending to both newcomers and more experienced slot machine enthusiasts.
If you are looking to play the Cool Buck online slot, then you can do so on any casino website which offers Microgaming slots. Of course, Microgaming are one of the larger slot machine companies out there. This means that there will be a plethora of sites to choose from. Check out our list below though. It will make it easier to find the website that is right for you!