Cloud Quest Slot Review
Cloud Quest capitalises on the Superhero craze and delivers a game that is not only a joy to look at, but a complete joy to play.
How to play Cloud Quest Slot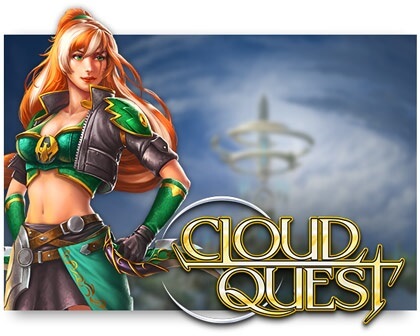 The Cloud Quest slot machine is a 5 reel, 10 payline game. The minimum bet per spin is 10p with the maximum being £100 per spin on all devices.
The theming behind Cloud Quest is absolutely superb. As we mentioned at the start, the whole game is based around the idea of superheroes.
These are not branded superheroes (i.e. not Marvel or DC), but that should not detract you from enjoying the game. The whole game premise is based around the idea that you are saving the city from invading monsters.
To be honest, that theme doesn't play into the way in which the game works all that much, but it is nice to play a slot machine that has a bit of a back story from time to time. In any case, the game does look fantastic, and everything has been drawn incredibly well.
One of the reasons to why we loved the Cloud Quest slot machine so much is down to the fact that it is a lot of fun to play whilst, at the same time, being very simple. We will cover the features in a short while. We know that there are a lot of slot machines out there which are very convoluted in the way in which they play.
Whilst this can be good from time to time, we find the majority of slot machine fanatics out there are not looking for something like this. Instead, they are looking for a simple game where they can hit that spin reel, sit back, and hope for the best. That is exactly how Cloud Quest Slot plays. If you are looking for a game that you can just jump into and wait for that cash to start rolling in (with a bit of luck, of course1) then this game is going to be perfect for you.
Bonus Rounds And In-Game Features
There are a few different features included in the Cloud Quest slot machine. Thankfully, they are pretty simple to understand once you have seen them a couple of times. In fact, they should be simple to understand, even if you have only played a few slot machines in your life.
Golden Shield: this is your wild. The wild can replace any other symbol on the board. So, basically, if you get a Golden Shield then your chances of winning are going to go up considerably.
Super Power Symbols: Super Power symbols act as a special feature in the game. You will need a minimum of three superpower symbols on the reels to activate a free spin. You will have special powers during this free spin. If you get 3 Super Power symbols on the reel, then one section of the wheel which appears will be active. If you get 4, then 2 sections are activated. If you are lucky enough to get 5, then you will have all 3 sections of the wheel activated. Special powers include:
Five of Fortune: Anything you get in a re-spin can be boosted by the 5x multiplier.
Emblem of Endurance: 3 wilds will appear on the reels. These will be locked into place.
Mark of the multitude: you have the ability to generate extra wild symbols.
Scatter of success: any symbol has the ability to become a scatter symbol. This will lead you to absolutely huge winnings.
Cloud Quest Slot Mobile Game
You are also able to play the Cloud Quest slot in mobile game form. As you can expect, it plays just as well on a mobile device as it does on the PC. This means you will be able to enjoy fantastic graphics, speedy gameplay, and a whole lot of fun. In order to play the Cloud Quest slot mobile game, all you need to do is find a company that offers the game and boasts a mobile app.
Summary - What Do We Think?
One of the main reasons as to why we are more than happy to give Cloud Quest Slot a top ranking is down to the fact that it is very well-themed. Although, we didn't expect anything less from Play N Go. There is enough going on to ensure that you are going to be hooked playing the game for an incredibly long time, but not enough to put newcomers off.
This is a game that you can really dip into and have a fiddle about with. With a decent payout rate, you will be looking forward to some cash in your pocket too!
Why not give Cloud Quest Slot a play today? It is sure to provide you with a ton of fun. All you need to do is find an online casino that boasts Play N Go games. This shouldn't be too hard to find, thankfully!