Sails of Gold Slot Review
Take on the role of Christopher Columbus. You are on the hunt for new lands. What will you discover? Hopefully it shall be treasures galore in the fabulous Sails of Gold slot machine from Play 'No Go.
How to Play Sails of Gold
Sails of Gold Slot boasts 5 reels and 10 paylines. The minimum bet per spin is 10p and the maximum bet is £100. This means the machine is perfect for those who are just getting into slot machines and are not planning on spending huge amounts of cash.
The theme of this game is Christopher Columbus. For those who are unaware (and we are British, so our education may not be great on that front). This is the guy that got a tiny bit lost when he was looking for the West Indies and ended up stumbling across America.
This kind of signalled the downfall of the British Empire. Anyway, that aside, this game is about discovery. There are coats of arms, hidden treasures, and fanciful graphics galore. Basically, this game looks great. Sure, it is not brimming with the looks that some of the 'licenced slot machines' out there have, but it looks good and we can't hate it for that.
This is a Play 'N Go game. This company has managed to get big because they know how to create some simple slot machines that still have a touch of sophistication behind them. As a result, they have managed to craft a game which is suitable for both new and experienced slot machine players. Once you boot it up, you have to pay attention to nothing. Just set the amount that you are willing to bet per spin and you are very much good to go.
Bonus Rounds & In Game Features
Your main feature in this game comes in the form of free spins (yes, yes, yes! We love them). In order to get this, you will need to get 3 ship scatters on the reels.
They can only appear on reels 1, 3 and 5. Right away, you are going to be awarded with 10 free spins. During those free spins, the ships, as well as your standard wild, will act as wilds. This means that you are going to have so many more options to win.
If you play the free spins game, you have the opportunity to win more free spins. In order to get to this point, you are going to need to find 3 more of the ship scatters. Surprisingly, this is actually going to happen quite a lot as you play the game.
The biggest downside is the fact that during the free spins, you are not actually going to have a multiplier on your winnings. This is a feature that we have come to love from normal slot machines, so it is a massive shame!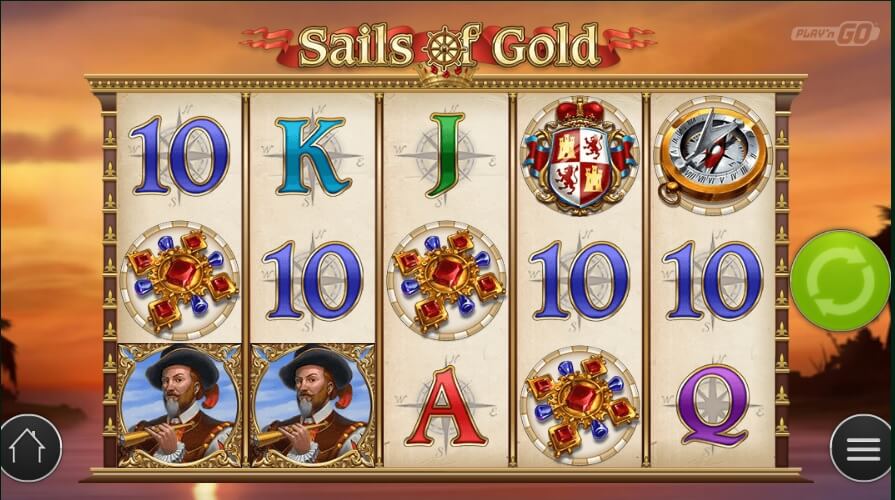 Sails of Gold Mobile Slot Machine
When we were writing this review, we stumbled across many a review on Sails of Gold which stated that the only way in which you will be able to play this game is if you have a mobile device. That isn't true. Don't worry. You can also play this game on desktop computers.
Of course, it is also available to play on mobile devices if you want. We tried it out. We loved it. The gameplay was smooth and the whole thing was just…fun. We urge you to check out the Sails of Gold mobile slot machine too, particularly if you love the desktop version!
Summary – What Do We Think?
On a feature level, the Sails of Gold slot machine doesn't really have a lot going for it. This is perhaps unsurprising since the slot machine was originally designed for mobile devices.
However, here we certainly know our slot machines. We have reviewed hundreds of them for starters and we can tell you that this is one of the better ones that we have played. What makes it for us is the fanciful graphics, the huge number of times that you are going to win.
This is a slot machine that we return to time and time again, despite the plethora of other machines that we have to sink our teeth into. Play 'N Go have really created a gem here, and we can't wait until it gains more popularity in the slot machine world. You can play the Sails of Gold slot machine on any website which offers Play 'n Go games, but see our top recommendations below as tey offer the best casino bonuses and free spins offers for new players.
Other Top Casinos Which Offe Sails of Gold Slot...