Reactoonz Slot Review
Reactoonz is probably one of the oddest-looking slots you will ever play. Why? Well, for starters it does not actually look like a slot machine. It looks like one of those weird Facebook games. Not that this is necessarily a bad thing. In fact, for us here at All Gambling Sites, it was one of the reasons why we loved Reactoonz but we also love playing the first slot of these theme - Energoonz Slot!
How to Play Reactoonz Slot
Reactoonz was first released in October 2017. It is a 5 reel; all ways pay slot. It has a high volatility with a house edge of 3.49%. The minimum bet per spin is 20p. The maximum is £100. There are tons of features packed into the game, but I am going to talk about those in a short while.
Reactoonz is well-themed. There are several amazing looking 'cartoon characters' which form the symbols. They each have their own personality too and their animations breathe life into this rather attractive-looking game.
There is just so much colour packed into it. You can tell that Play N' Go have staked a lot of cash on this game performing well on the slot machine scene. I reckon their gamble is going to pay off too.
Since Reactoonz plays a little bit differently to some other slots out there, I can't imagine that there are going to be too many beginner players who show a lot of interest in this. It may be a bit complicated for them.
However, if you are an experienced player that is looking for a slot which brings something different to the table, then you really are not going to go far wrong with Reactoonz.
Bonus Rounds & In Game Features
This is an 'All Ways Play' slot. If there are five or more symbols touching each other in any direction then you get a win. This is not even the best part. When you get a win, these symbols disappear and new ones fall into their place. This means that you could potentially win several times on a single spin.
In fact, this happens more often than you may think. Since this is a high volatility slot, the wins do not come in that often. However, when they do, the game tends to throw a lot of cash on you.
Each time you win, the small meter on the side will start to fill up. When it is full, you will be awarded one of four features. In fact, all four of them could occur at once, although this is rare. Normally it is just going to be one or two of these features being triggered:
Implosion: up to six of the symbols on the reel will be turned into wild symbols. Symbols that these wilds are touching will be destroyed which will enable new ones to fall into place.
Alteration: one of the low paying symbols will be selected. All of the symbols touching this low paying symbol will be changed into something else.
Demolition: all low paying symbols are destroyed
Incision: only occurs when all four are triggered. A 3x3 wild symbol will be put on the reels.
After a non winning spin, up to 8 extra wilds can be dropped onto the reels.
If you get four matching symbols in a square shape, they will turn into a Giantoonz. If this forms a winning combination, the wins are doubled.
The final feature (told you there were a few) occurs on every spin. Each spin, a random symbol is chosen. If this symbol forms part of a winning combination, two wilds are left in its place.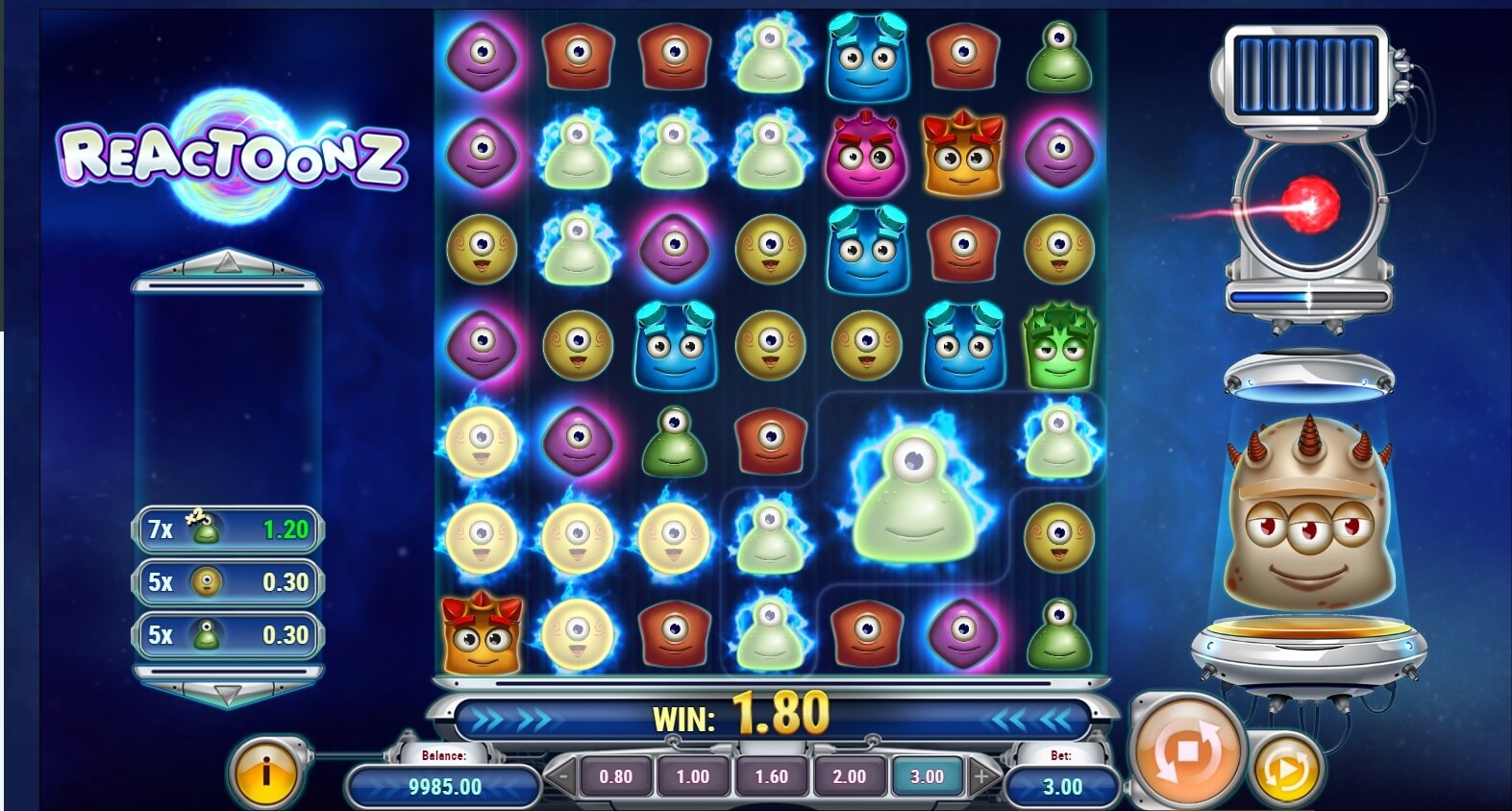 Reactoonz Mobile Slot Machine
As you may have imagined, this is a slot which is very much 'designed' for mobile play. It looks amazing. So bright and so colourful. This is probably one of my favourite games to play 'on the go' at the moment, and that is really saying something since I tend to do most of my gaming plonked in front of a computer.
Summary – What Do We Think?
If you are looking for a slot which is absolutely laden with features, then you really are not going to go wrong with Reactoonz. It may not be the best slot for newer players, but if you are an experienced player who wants something new, head to any online site which offers Play N' Go games and sink your teeth into it!