Troll Hunters Slot Review
This Norse-themed game from Play N' Go will pit you against deadly trolls. Along the way, you will pick up glorious riches too, which isn't half-bad! This is one of the more beautiful games that Play N' Go have made, and that is really saying something!
How to Play Troll Hunters Slot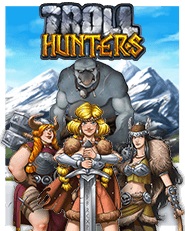 Troll Hunters is a game designed by Play 'N Go who are responsible for other top slots including Cloud Quest and Energoonz It takes place on a 5x5 grid. There are no paylines as such, but we will come to that in a short while. The minimum bet per spin is 20p. The maximum bet per spin is £100.
As we mentioned right at the start. 2 paragraphs ago, in fact. This is a Norse-themed game. They seem to be all the rage now, although barely any of them look good. This one does. The graphics on the Troll Hunters slot are cartoonish in nature, but they have a bit of a realistic look to them too.
This creates something which is aesthetically pleasing. All the symbols are distinct enough from one another to know exactly what is going on at all times. Some of the more recent slot machines that we have encountered do not do this.
They have different symbols which look close to the same as one another. That isn't fun. As we mentioned, this game does not rely on a traditional payline structure. Instead, it will pay out horizontally and vertically.
Now, horizontal is just like a normal slot. If three matching symbols are in a row, you get some cash. Vertical is a bit more unique. If there are two symbols above or below the symbol (i.e. also three in a row), then you will receive your winnings. We do love this method of paying out.
While there are a few features that you can enjoy in the Troll Hunters slot, all of them are simple to understand. In fact, the most complicated element of the game is that it pays out vertically too, and you understood that, right?
Bonus Rounds & In Game Features
The main feature of this game occurs if you get a winning combination. When this happens, the winning symbols will disappear from the reels. Don't worry, that isn't the machine trying to take away your winnings! Instead, new symbols will fall into place. If you form a winning combination, they will disappear too.
Now, here is the kicker, each time you form a winning combination on a single spin, your multiplier will go up. The maximum you can win here is 500x your initial stake which, if you are putting down 20p per spin, it is £100 (we did the math so you didn't have to!)
The second feature is a Free Spins feature. On each spin, the word BONUS will appear under the reels. If you form a winning combination and the whole of the word is revealed by the removed symbols, you will get 10 free spins.
These free spins will be slightly different. You will be taken to a new set of reels. Here, five matching symbols anywhere on the reels will award you with a win. Of course, the multiplier feature will still be in place here too!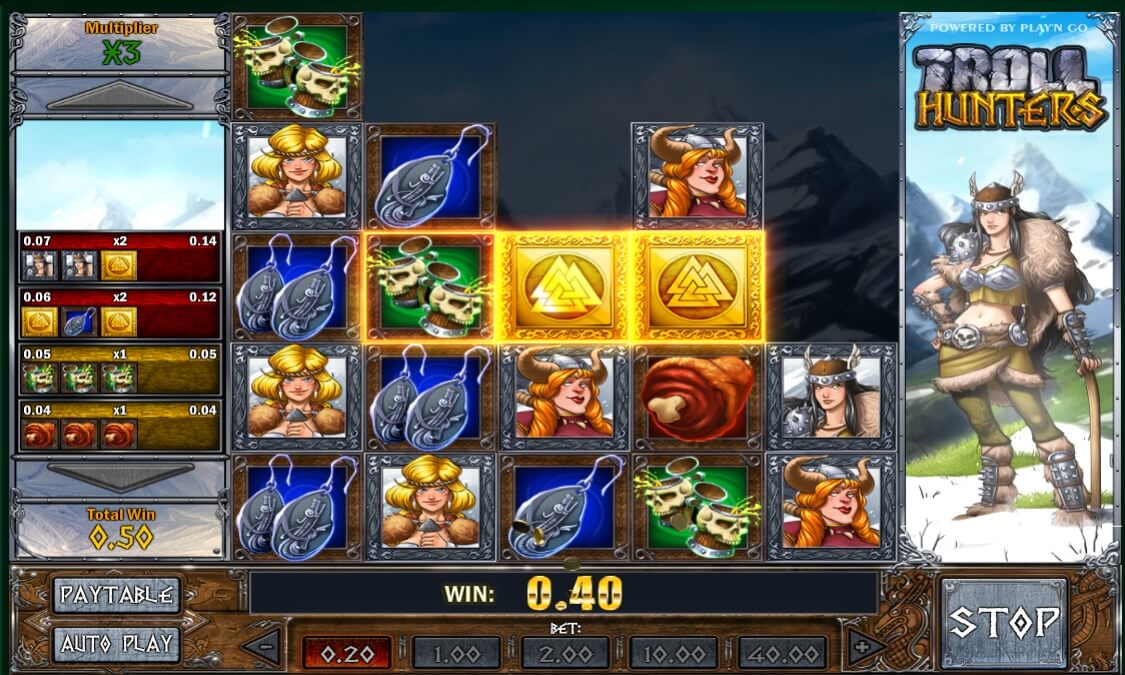 Troll Hunters Mobile Slot Machine
The Troll Hunters mobile slot looks awesome. We are going to be honest here. We really did not think it would look this great. If you play the desktop version of the game, you will see that there is a lot going on. However, the team at Play 'N Go have managed to compress it down into a viable format for mobile devices, and that results in this game being one of our favourites this year. Good on ya!
Summary – What Do We Think?
There are a lot of Norse-themed games about now. We are not 100% sure why, but they exist. We have played through most of them, and we must say the Troll Hunters one is the best. Not just in terms of the graphics that it boasts, but the unique gameplay that it has to offer too. This is a great game. You will love it!
You can play the Troll Hunters slot on any website which offers Play 'N Go games. If you are struggling a bit to find a great location to play at, then we have plenty of suggestions for you on this page! We recommend you check them out. We put a lot of effort into choosing these!
Other Top Casino Sites We Also Recommend...