NetEnt Company Profile
Driving the Online Casino Market through Better Gaming Solutions, Netent Casinos Games and Slots are widely known are considered to be the best games available online. Net Entertainment, or NetEnt as they are more widely known, is a premium, world-class B2B supplier of digitally distributed casino systems and games. Most of the casino games NetEnt develop are used by leading online casinos and successful operators.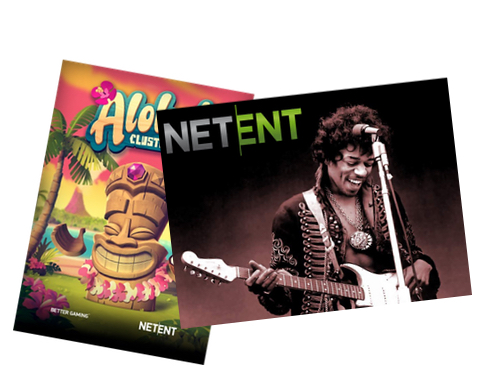 The NetEnt group comprises of several companies with operations in Sweden, Malta, Kyiv, Gibraltar and Alderney. NetEnt's two main offices are located in Stockholm, Sweden and on the Mediterranean island of Malta. Per Eriksson is the CEO of the parent company, Net Entertainment NE AB and he has the overall responsibility for all the operations in Sweden and reports to the Board of Directors.
The business in Sweden includes finance, administration, IR and technology development, while sales, product management, marketing and support is located in Malta.
During NetEnt's steep rise to the top, there's no mistaking that they had clear visions when they started, and made it clear they would execute them time and time again, as they went on. NetEnt's vision is to drive the online casino market through better gaming solutions, which they are proving possible, whereas NetEnt's Mission in their own words is ''Creating value by providing leading-edge online casino solutions that enable the ultimate entertainment experience''
The success of NetEnt derives from these visions and also their relationships that are built on trust and solutions built on innovation. Innovation is their key focus point here when we look at how they continually develop beautiful and innovating slot. Innovation is clearly is intrinsic in the Company's ethos.
NetEnt's Market Share
Sometimes it feels that NetEnt has fully penetrated the market as leaders in online slots. Just how big are they compared to other leading gaming providers such as Playtech and Microgaming? Since NetEnt is a publicly-traded company on the Swedish stock exchange, we investigated to see really how much growth they have been doing in the past couple of years.
It's important to know in online gambling that Casino gaming represents approximately 21% of the total online gaming market. With that said, NetEnt's market share of the European online casino market, in 2013, was approximately 31%. This figure was a 4% increase in the 27% in 2012. We're waiting so we how 2014 tallied up but it's quite clear that with the leading slots NetEnt keeps delivering, a solid fan base and more and more casinos clambering to offer their products, 2015 looks very bright to us.
NetEnt's Markets - Keeping Ahead and Entering Regulated Markets
It's clear that Regulated markets are carving the future of online gaming. A whisper then turns in legislation as we've seen with France, Belgium, Denmark and the UK, with more whispers that may be turned into a reality soon. In recognition of this, NetEnt continuously monitors, plans and develops its operations for smooth entry into new regulated markets.
The process of gaining a license, and being compliant in the chosen jurisdiction, is no doubt challenging, yet NetEnt keeps cool and prepared and with the help of their previous experiences in new market entries, they can help online gaming operators take advantage of these opportunities, which is a win-win situation for both sides.
It's clear NetEnt are aware of such legislative changes that can made and how rapidly they can come into effect which is why they are the leaders today. This is when their vision and execution come into favour again.
NetEnt's Ground-Breaking Slots
NetEnt's success is also clearly built on the impressive portfolio of state-of-the-art games that's been carefully cultivated over the years and the reception each of them have had. NetEnt has successfully built a huge global fan base not only from a partner perspective but from online gambling customers.
Players know who NetEnt are, they know the games are fantastic and they interested in what is coming next. NetEnt keeps customers captivated and engaged which only adds to their success. Delivering their 'Better Games' strategy is all about delivering the best in graphics, the best in sound, and the best in mathematics. It's also about delivering the best of the best, nothing less. Innovation in Better Games™ has, is and will be NetEnt's core focus strategy.
Extensive Experience, Innovation and Success
NetEnt has a wealth of knowledge of the online gambling industry as they have over 15 years' experience of developing online gaming systems and games. If you combine that with 45 years' experience of land-based casino operations, then that is truly unique to the market. This not only shows NetEnt's continued commitment to impact the industry, but it also showcases their knowledge in building successful casinos.
Most NetEnt casinos today are highly regarded, successful and most importantly are trusted by casino customers. This is imperative as playing online casino has never been more popular, and during these times, trust is number 1 so players can enjoy themselves fully. This also ties in with regulations and licensing.
It's very important to NetEnt to keep their halo gleaming not only with their own operations but also with all casino who use their products. All in all, with much monitoring, most if not all NetEnt casinos online today can be wholly trusted.
NetEnt's Awards and Commendations
It goes without saying that NetEnt's achievements within the iGaming industry haven't gone unnoticed as they have also bagged themselves some prestigious awards, not just once, but time after time and year after year. They are EGR's B2B Award winners year on year: for the fourth year running and NetEnt received more honours at the 2014 EGR B2B Awards, the most received by any single supplier:
Mobile Supplier of the Year
RNG Supplier of the Year
Slot Provider of the Year
Live Casino Supplier of the Year (Highly Commended)
Last Word From Us: New Games Every Month
It's great news when such a great provider is able to release high-quality games every single month. This comes down to a combination of passionate and talented game developers and continuous investments in R&D. The casino games are built using the latest in gaming technology and are released in line with a schedule, usually to a great reception from fans and providers. We can leave you with one final word so you can make up your own mind: When the industry knows that a new NetEnt slot is being released, it creates a certain buzz before and after so we think that says a lot about where Netent is right now in the online casino marketplace.